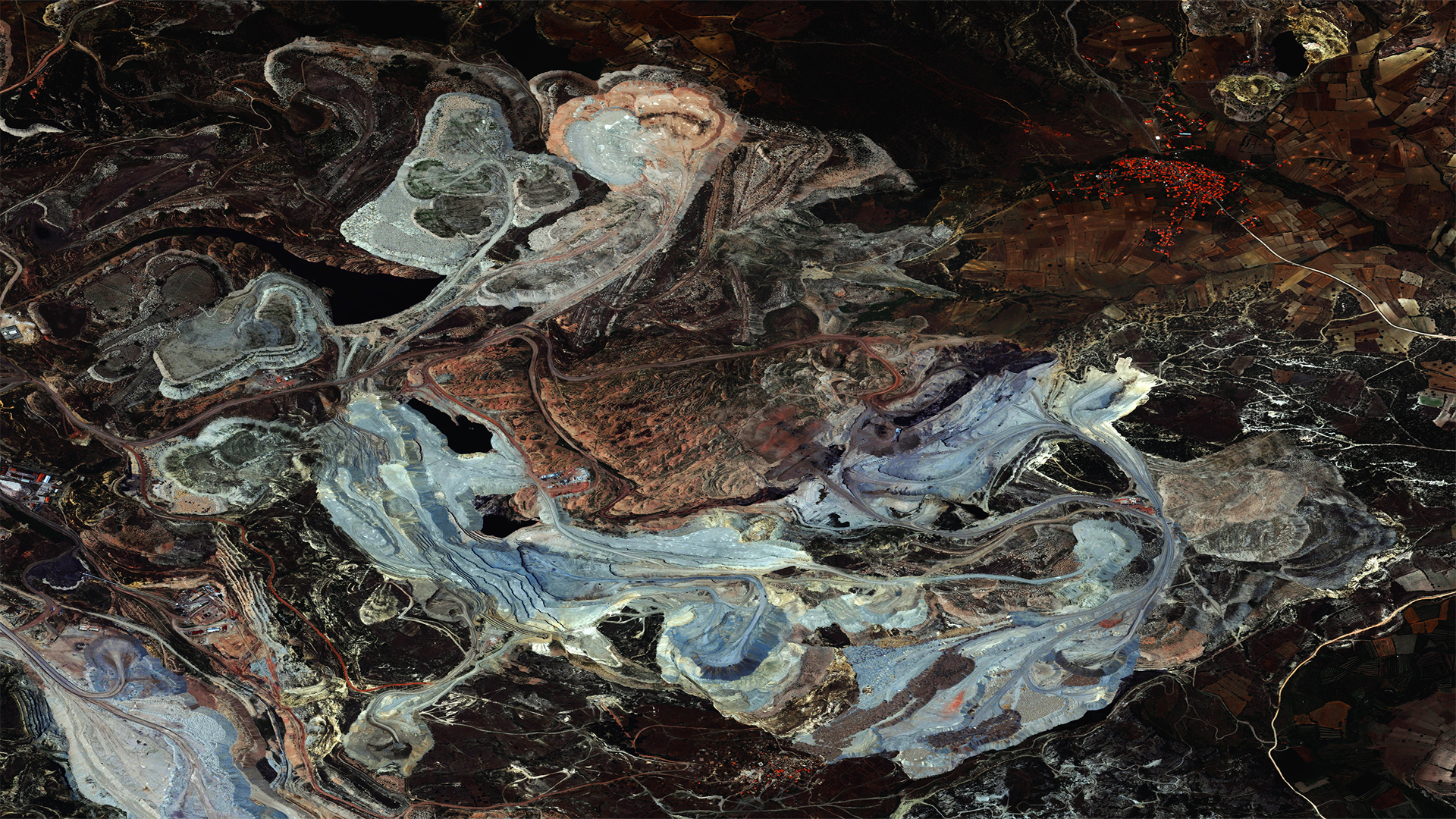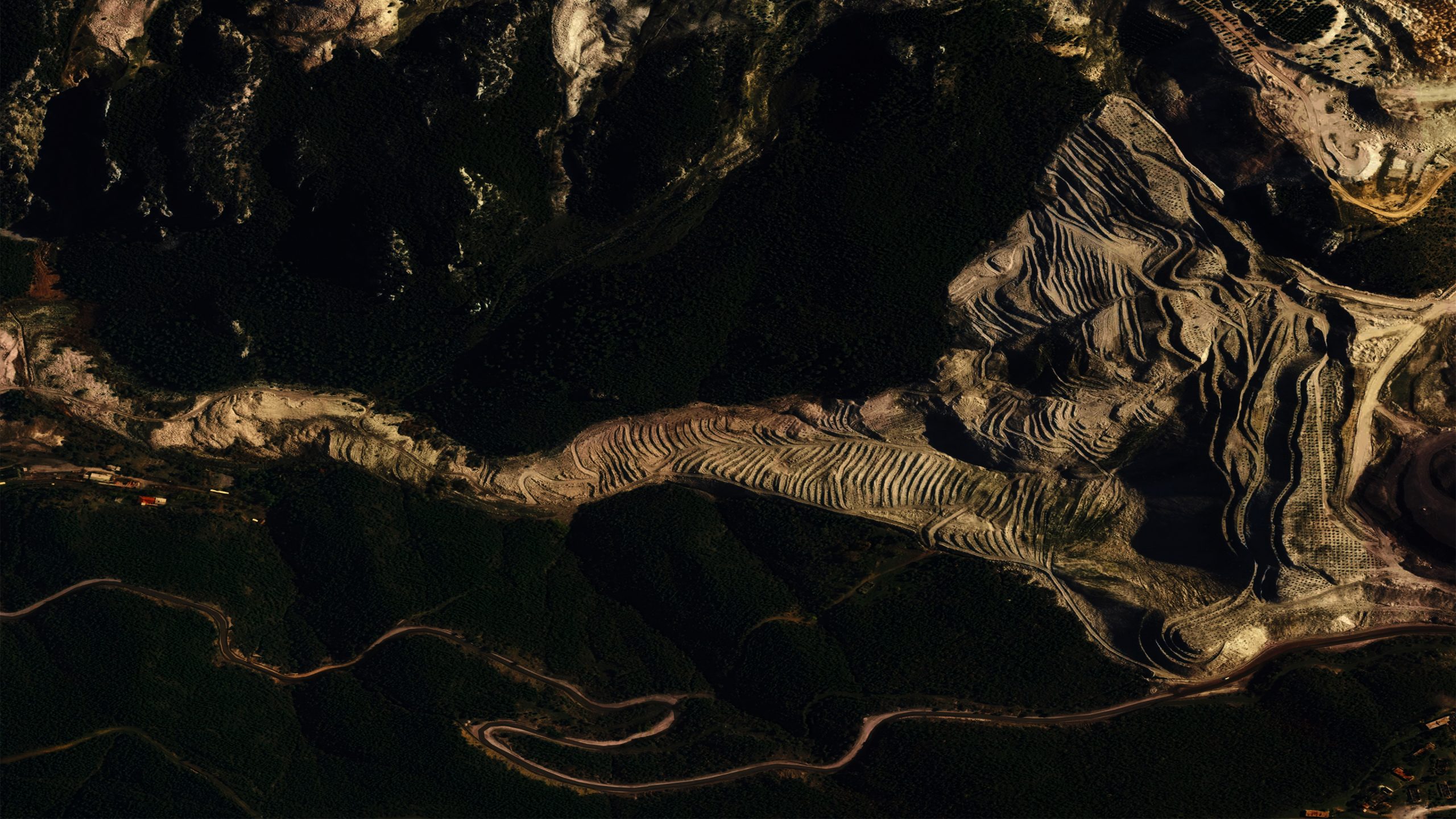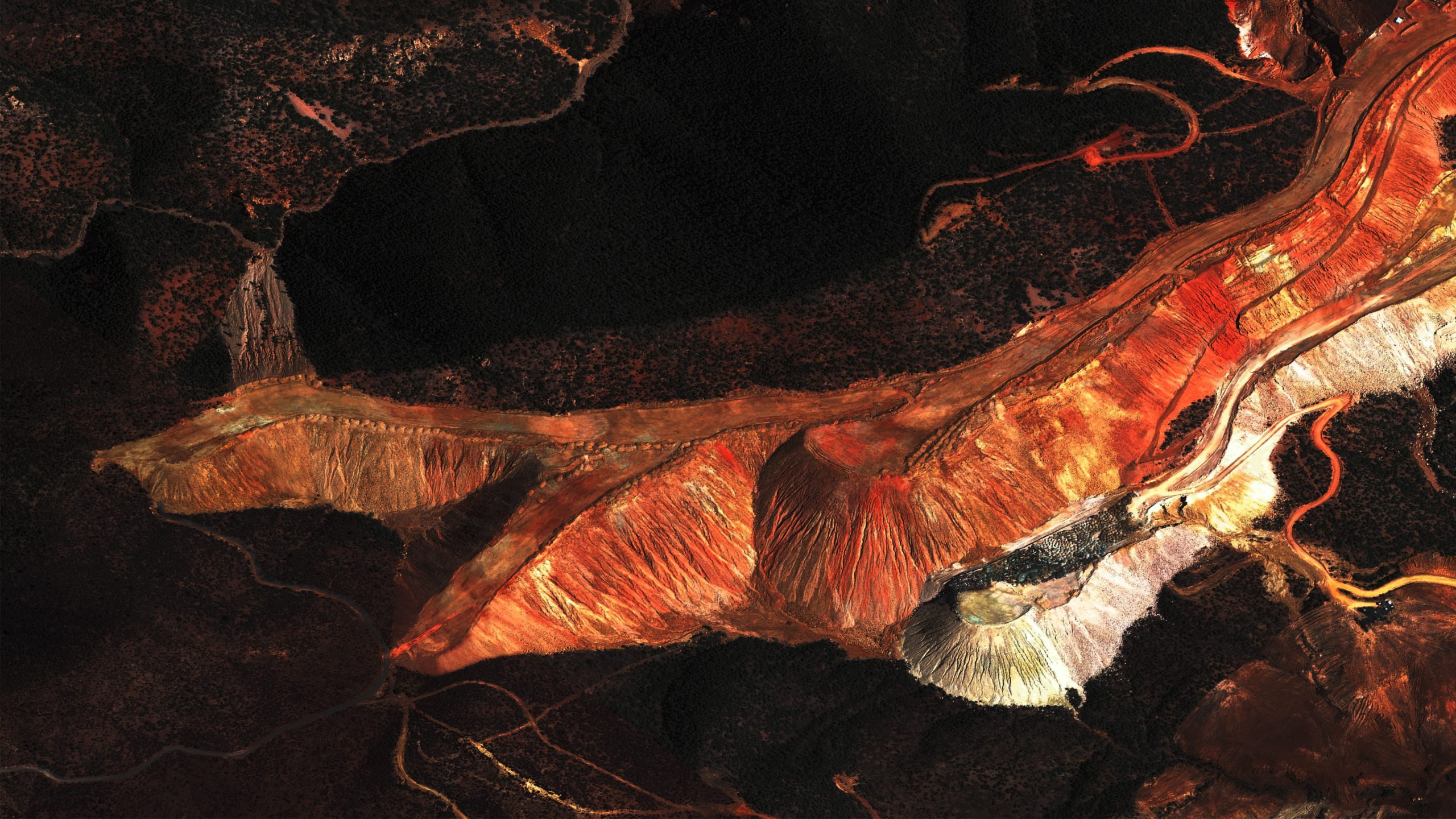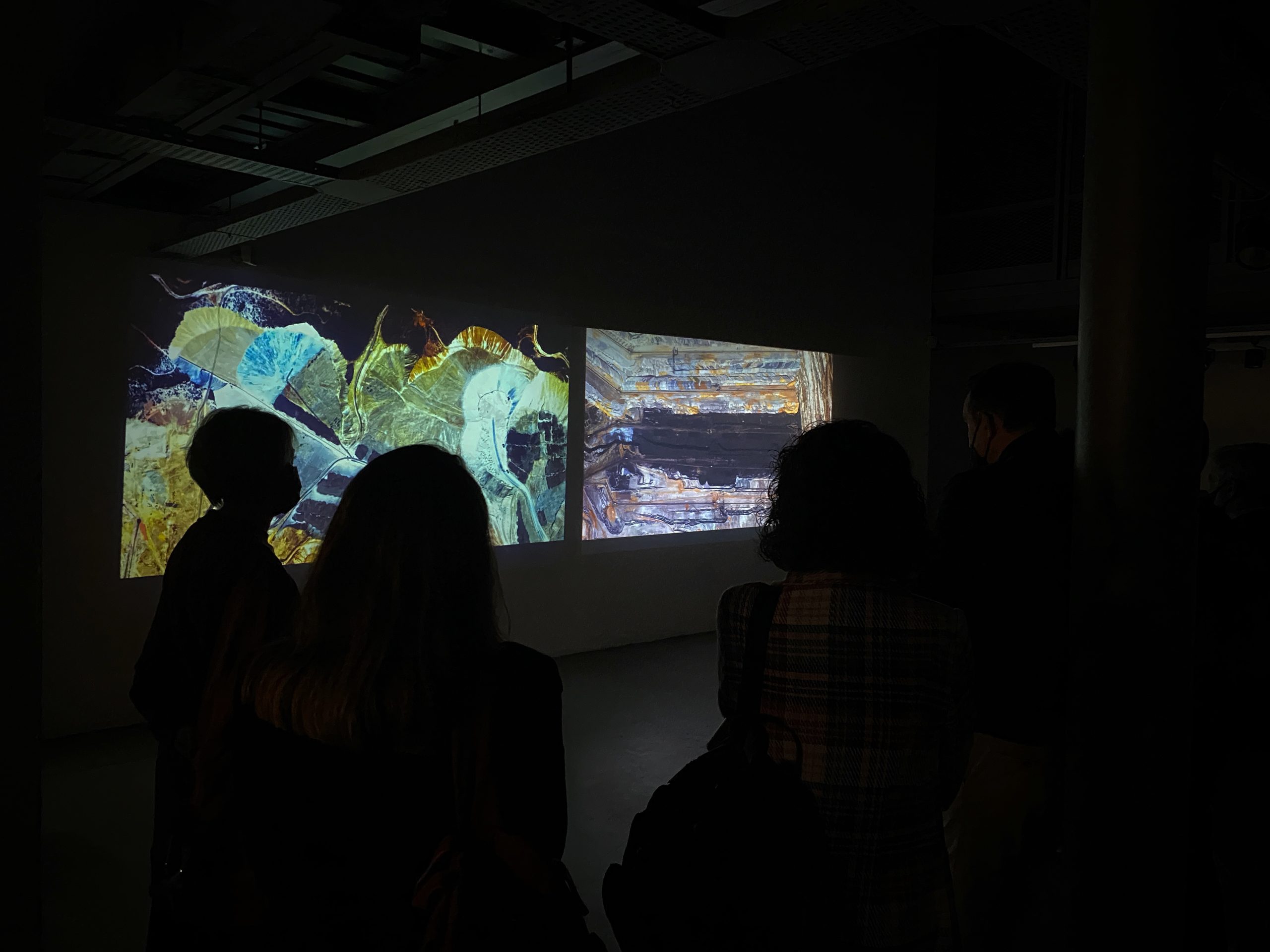 WOUNDED GROUND II
Art Talks: Sencer Vardarman & Ece Pazarbaşı & Begüm Özkaynak
03.11.2021
Bilsart is hosting Sencer Vardarman's exhibition entitled "Wounded Ground II" between 3-11 November.
Wounded Ground is a visual research project that consists of the digital collages of nearly one hundred thousand satellite photographs of mine pits – taken for a research project titled "The Atlas of Environmental Justice", conducted by Environmental Justice Organisations, Liabilities and Trade (EJOLT). The series explores the Anthropocene, mainly focusing on unveiling open-pit mines that harm humankind both physically and socially, as well as the areas polluted by these mines in different parts of the world, including Bangladesh, Mexico, Germany, U.S.A. and Turkey. Wounded Ground is a project that aims to visually document and aestheticize the Anthropocene. The Anthropocene marks the epoch that begins with human activities, which impacted the Earth's geology and ecosystems. Specifically, the Anthropocene is the time humans are living in now, dating back to the start of the industrial revolution.
The final work in the form of digital collages portrays the environmental disaster caused by mining – the toxification of fertile land – in an abstract art form. This offers the viewers the opportunity to renegotiate their relationship with such common industrial practices leading to man-made disasters. The digital intervention, the collage process, gathers images – real images of mining sites taken from the space – together that are indexical in context, yet, feels surreal collectively and aesthetically. As the distance between the images and the viewer increases, the forms that constitute the visuals become more and more abstract, thus forming fictitious, indecipherable, and distinct compositions. By compiling these images and presenting them in the abstract painting form, Vardarman strives to bring forward the harm that man-made environmental disasters act upon the Earth and its ecosystems. Glorifying a man-made disaster via art is a method that creates controversy – evoking emotional and intellectual responses from the viewers. Such controversial glorification resembles the musicians of Titanic who continued to play as the ship was sinking.
About EJOLT:
"Environmental Justice Organisations (EJOs) are civil society organisations involved in conflicts over resource extraction or waste disposal, focusing on the link between the need for environmental security and the defence of basic human rights with the aim to redress inequitable environmental burdens.
The Environmental Justice Organisations, Liabilities and Trade is a project that supports the work of Environmental Justice Organisations, uniting scientists, activist organisations, think-tanks, policy-makers from the fields of environmental law, environmental health, political ecology, ecological economics, to talk about issues related to Ecological Distribution.
EJOLT compiles a large database, 'The Map of Environmental Justice', that will comprise an atlas of thematic and regional maps covering ecological distribution conflicts around the World. Among various research, 346 mining cases featured on the EJOLT website as The EJOLT Atlas of Environmental Justice, enriched by an interactive discussion with activists and experts."
Sourced from http://www.ejolt.org/project/
ABOUT SENCER VARDARMAN
Sencer Vardarman (1970, Istanbul) studied photography at the Mimar Sinan University Istanbul before graduating as a master student with Katharina Sieverding at the UdK Berlin and subsequently completing a master's degree at the Institute for Art in Context. In his artistic works, Vardarman addresses questions about contemporary visual culture and the politics of images. His works have been featured in numerous international exhibitions, such as in his solo exhibition at Turku City Museum Finland (2020) and in group exhibitions such as 20/20, Schoeler.Berlin (2020), the 9th Berlin Biennale (2016), 77-13 Political Art in Resistance in Turkey at nGbK Berlin (2015), the 3rd Çanakkale Biennale (2012), Taswir at Martin Gropius Bau Berlin (2009), the Thessaloniki Biennale (2009), among others. Between 2014 and 2016, Vardarman curated the conversation series 1+1, in which he addressed international artist networks. He lives and works in Berlin.
ABOUT ECE PAZARBAŞI
Ece Pazarbaşı is an independent curator and the founding director of Field Kitchen Academy, a unique format of an interdisciplinary residency program that focuses on sound, art, music, and food in Brandenburg. With a curiosity focusing on perception practices and unusual interdisciplinary approaches, Pazarbasi aims at transcending the existing borders between research and practice; beyond forms and formats with innovative experimental tools and experiences on holistic knowing and thinking. Her curatorial experiences include "The Things We Are Made Of," a series of 4 exhibitions at WAM Turku City Art Museum, Finland (2019-2020); "Cabinet of the Unknown" exhibition Werkbundarchiv – Museum der Dinge (2017); "Bank Blank" 20th year anniversary main exhibition of 48 hrs Neukölln (2018); "Memory Plates" at Hamburger Bahnhof (2017); "Muscle Memory" Kunstraum Bethanien/ Kreuzberg (2017); "12/12" and "Turkish Art Nice and Simple" exhibitions at Tanas Berlin (2011-2012) together with René Block. Her other professional work includes being the project coordinator for New Museum – New York for Ideas City: Istanbul (2012) and Consultant and Program Specialist of Visual Arts for Turkey at the Abu Dhabi Authority for Culture and Heritage, UAE (2009-2010). She is also serving the advisory board of TÜSIAD Berlin – Bosphorus Initiative. Pazarbasi was also privileged to be awarded a research grant from Olafur Eliasson's Institution for Spatial Experiments (IFREX) in 2013.
ABOUT BEGÜM ÖZKAYNAK
Begüm Özkaynak is Professor in the Department of Economics at Boğaziçi University (since 2005). She holds a BA and MA in Economics from Boğaziçi University, an MPhil in Economics from the University of Manchester, and a PhD in Ecological Economics and Environmental Management from ICTA, Universitat Autonoma de Barcelona. Her research interests include ecological economics, sustainable development, energy and mining conflicts and environmental governance. She was a board member of the European Society of Ecological Economics (ESEE) between 2010-2018 and served as the elected Secretary for two terms. She was also the local organizing committee chair for the 9th International ESEE Conference organized in Istanbul in 2011. She was also the project coordinator for Boğaziçi University in FP7-funded EJOLT (Environmental Justice Organisations, Liabilities and Trade) between 2011-2015 and ACKnowl-EJ (Academic-Activist Co-Produced Knowledge for Environmental Justice) between 2015-2019 funded by International Social Science Council. She acted as a coordinating lead author for the chapter on scenarios and transformative change in UNEP GEO-5 and was a lead author in UNEP GEO-6 Regional Assessment and for Values Assessment in Intergovernmental Platform on Biodiversity and Ecosystem Services (IPBES).