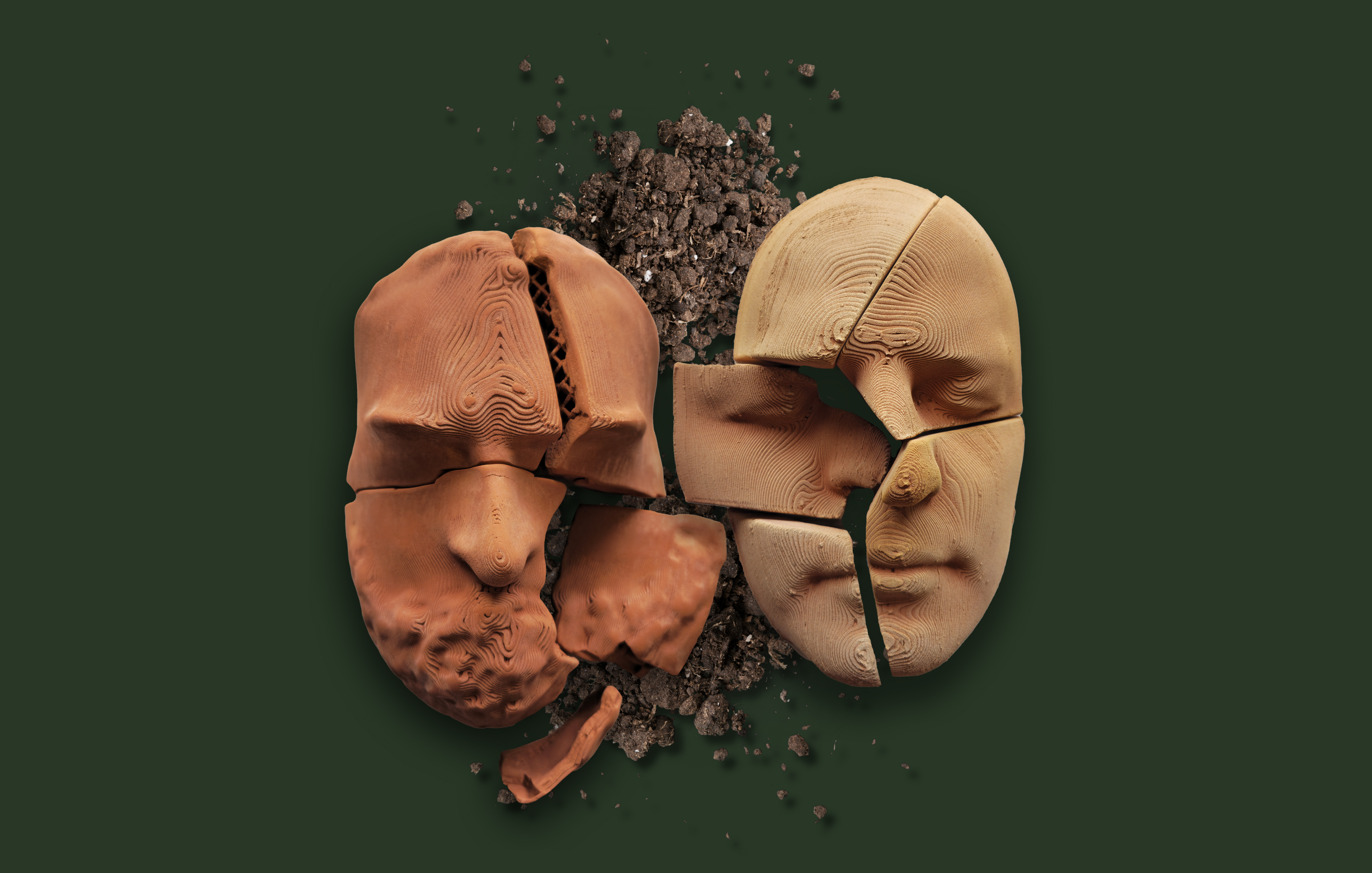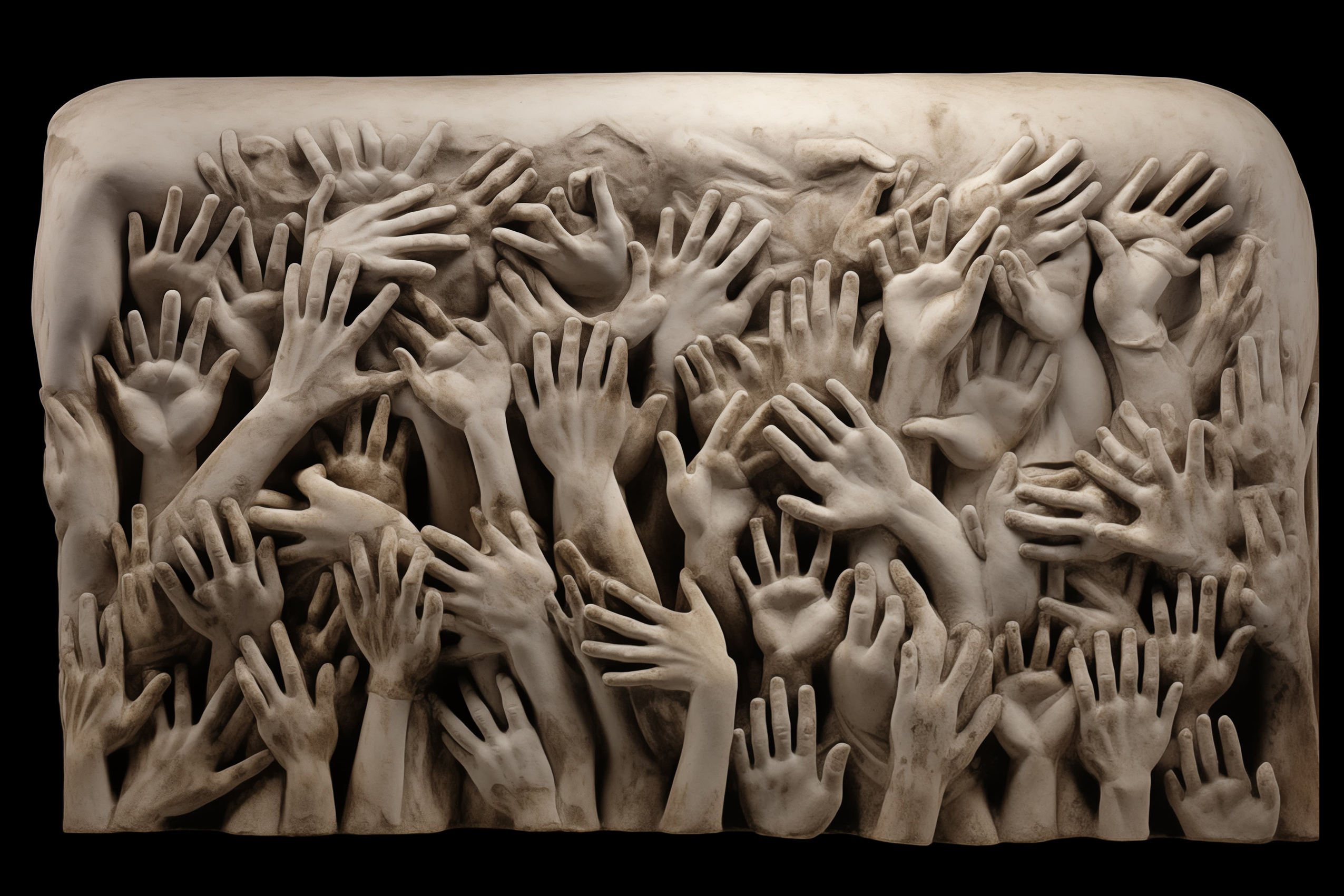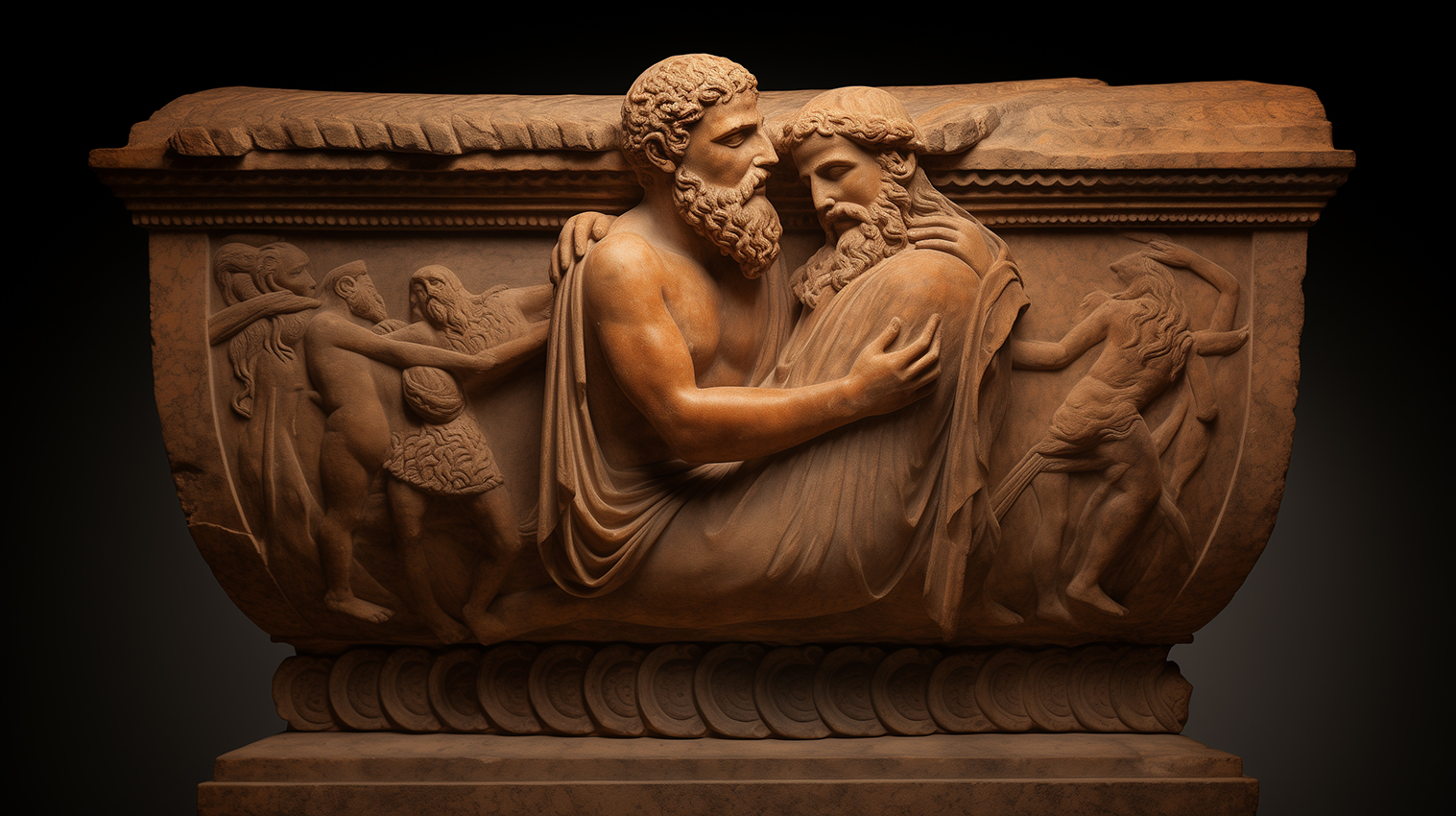 REST IN PIECES
Ahmet Rüstem & Hakan Sorar
Bilsart x Monoco
02.12.2023 – 30.12.2023
Bilsart and Monoco host the first duo exhibition of Ahmet Rüstem Ekici and Hakan Sorar's "Rest in Pieces" from December 2 to 30, 2023.
Ekici and Sorar's first duo exhibition titled "Rest in Pieces" is a fictional journey inspired by the way archaeological data and surfaces tell stories. The two artists, in their work on body and spatial relations, this time turned the route to traces and leaving traces on the axis of death and permanence. Working on the forms that images composed of words can transform into, they present the audience with the human/machine output of the image from mind to words, from words to image, and from image to 3D object blended with techniques such as video, 3D PLA, resin and clay printing, and laser engraving.
The starting point of this journey is the frog-shaped rhytons, inspired by the breeding process of frogs, which are thought to have been created about 5000 years ago and are currently exhibited in the Kütahya Museum. These vessels, which may have been produced by observing the migration of female frogs carrying male frogs on their backs to the Palazoğlu pond, which happens annually between March and May in the Domaniç district of Kütahya, are a good example of the transformation of an everyday event into an object and the interpretation of archaeological data today. Based on this example, the duo focuses on the production methods of most objects that are defined as archaeological objects today and their ability to imitate nature.
Inspired by frog-shaped rhyton, the duo Ekici and Sorar reflect on skeuomorphism* and pursue the traces left on sarcophagi, tombs, and grave remains as an objective form of permanence and fragmentation. The duo's journey throughout the exhibition preparation includes various archaeological excavation sites and museums. Focusing on the reshaping of archaeological artifacts with 3D scanning technologies, the exhibition focuses on the diversity of the images' evolution through experiments combining artificial intelligence tools and manual labour to produce images, 3D objects, and videos from words.
While diversifying with 3D clay printing technologies, game engines, and image technologies, "Rest in Pieces" mimics a museum trying to transfer information to the future with objects such as sarcophagus surfaces, relief panels, and death masks. The duo's aims in creating this exhibition are to look at archaeological data from the perspective of art, to think about possibilities by reinterpreting the traces of the past, to examine the potentials of artificial intelligence tools, and to document the contemporary capacities of these tools.
In the catalogue prepared for the exhibition, collectors, curators, architects and archaeologists from the fields of architecture and archaeology, with whom the artists had previously crossed paths as a duo, wrote essays. In addition to the writings of Arda Bülbül, Aylin Alpüstün, Ayşegül Sönmez, Asena Kumsal Şen Bayram, Ceylan Önalp, Esra Özkan, Feride İkiz, Fırat Arapoğlu, Inana Abdelli, Nergis Abıyeva – Uras Kızıl, Onur Baştürk, Sera Yelözer, Sinan Eren Erk, Kalben's song titled "Hatıraların Gölgesi" will meet the visitors for the first time in the video.
"Rest in Pieces" reflects the interdisciplinary work of Ekici and Sorar regarding art and archaeology and presents new perspectives of contemporary techniques inspired by the past.
*Skeuomorphism is the use of old design features in new technologies. An example of this concept is that digital notebooks mimicking the appearance of traditional notebooks. Thus, it provides a familiar feeling to users. In archaeology, skeuomorphism refers to the recreation of old material and design forms with new techniques, for example, imitations of stone tools in metal. This shows the cultural and technological evolution of societies.
*Skeuomorph, mimicked object in archaeology. Gordon Childe, Piecing Together the Past, The Interpretation of Archaeological Data, P.20
AHMET RÜSTEM EKİCİ & HAKAN SORAR DUO BIOGRAPHY
Ahmet Rüstem Ekici and Hakan Sorar are an artist duo who develop their art practice with an interdisciplinary approach at the intersection of art, design, and technology. As a versatile artist, Ekici focuses on the intersection of body, architecture, and optical perception, exploring the transformative nature of spaces through the lens of gender and experience. He effectively uses the storytelling language of archaeological surfaces to address these issues in digital media.
Sorar is a versatile artist who started his artistic journey with photography and continues to explore the potential of digital image creation. He focuses on themes such as the body, texture, archaeology, traces, and spatial relationships, integrating these themes with new media technologies. In their collaborations, the duo often uses elements such as space, digital bodies, stage design, material diversity, and archaeological data.
Their collaborative work, which aims to record the past and experiences and leave data and possibilities for the future, has been exhibited at international festivals and exhibitions, reflecting the interdisciplinary approaches of both artists and the integration of art and technology. Ahmet Rüstem Ekici and Hakan Sorar continue their journey in their studio in Istanbul as a duo that pushes the boundaries of digital tools and offers innovative experiences to the audience.
AHMET RÜSTEM EKİCİ ABOUT
Ahmet Rüstem Ekici (b. Adana, 1983) is a multidisciplinary artist working on body, architecture, and optical perception. In his series on gender and space, he focuses on spaces transformed by experience. He makes use of the storytelling language of archaeological surfaces and objects while digitally visualising these series dealing with gender, architecture, and body relations.
​The works of the artist working on AR / VR have been exhibited at Ars Electronica Concrete House, CADAF Online, XX Art Flaneire, Museari Queer Arts Museum, YARAT Contemporary, Thessaloniki Queer Arts Festival. After "Hamam", one of Turkey's pioneering augmented reality exhibitions, he designed the exhibition "Sauna" and "Wet Area" as VR experiences. He continues his work on space and archaeology.
​Selected by U.S. Educational and Cultural Affairs / ZERO1 for the American Arts Incubator Amplify 2019, Ekici continues his digital work and explores the potential of augmented reality. The artist is the brand ambassador of the AR app Artivive and is in the "Meta Creators of Tomorrow" programme.
Ahmet Rüstem Ekici graduated from Bilkent University, Faculty of Fine Arts and Architecture, Department of Interior Architecture and Environmental Design in 2008. Specialising in stage design, He teaches "Space design for the camera" and "Illusion in spaces" at MEF University Faculty of Design and Architecture. Ekici who grew up intertwined with the discipline of archaeology, completed Istanbul University Cultural Heritage and Tourism education.
HAKAN SORAR ABOUT
Hakan Sorar (b. Istanbul, 1991) is a multidisciplinary artist who works with new media tools and continues his art practice, which started with photography, through the image-making forms of digital tools. He thinks about the body, the surface of the body, the relationship between body and space, the stories told by surfaces, texture, and identity, and is interested in archaeology, especially prehistoric archaeology.
Ambiguity and possibility are evident in the stories Sorar tells using digital tools (3D software, digital copying, and production). His productions based on digital photography and digital collages have transformed into moving images produced with AR (Augmented Reality), virtual reality, artificial intelligence, 3D modelling, and animation tools, as virtual cameras, spaces and digital software have attracted much interest in the field of possibilities.
In his previous works, he focused on stories in which he combined human figures and architectural elements with instant films and explored the relationship between human and their ever-changing environment. In these works, he manipulated and fragmented the form of the captured moment, adding and subtracting frames. Later, in his digital drawings, where the line between body and object becomes blurred, he focuses on the body that is controlled and shaped by various mechanisms of power. He asks questions about identity, form, politics, abject and gender. His first solo exhibition in 2020, Through the Skin, focused on these issues. In addition to his solo works, he collaborates with Ekici on topics such as body, space, archaeology, story and trace. Sorar continues his work in Istanbul.
Hakan Sorar graduated from the Department of Mechanical Engineering in 2014. After his master's degree at the Faculty of Science, he continues his master's degree in Communication Design and Semiotics at the Faculty of Art and Design. He has worked as an engineer, creative director, and designer in technical and creative industrial projects where different disciplines are integrated. Sorar, who held his first solo exhibition in 2020, continues his productions using new media tools in Istanbul.