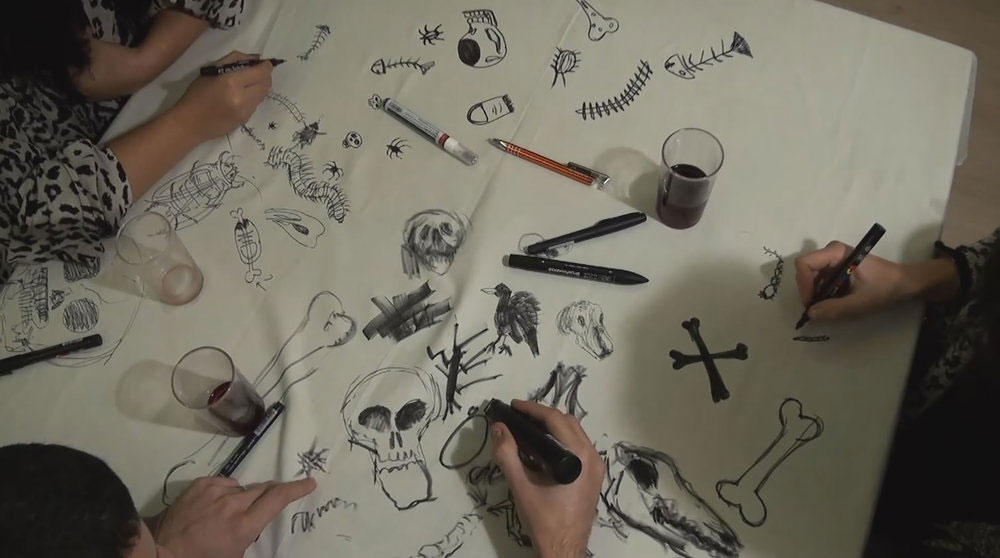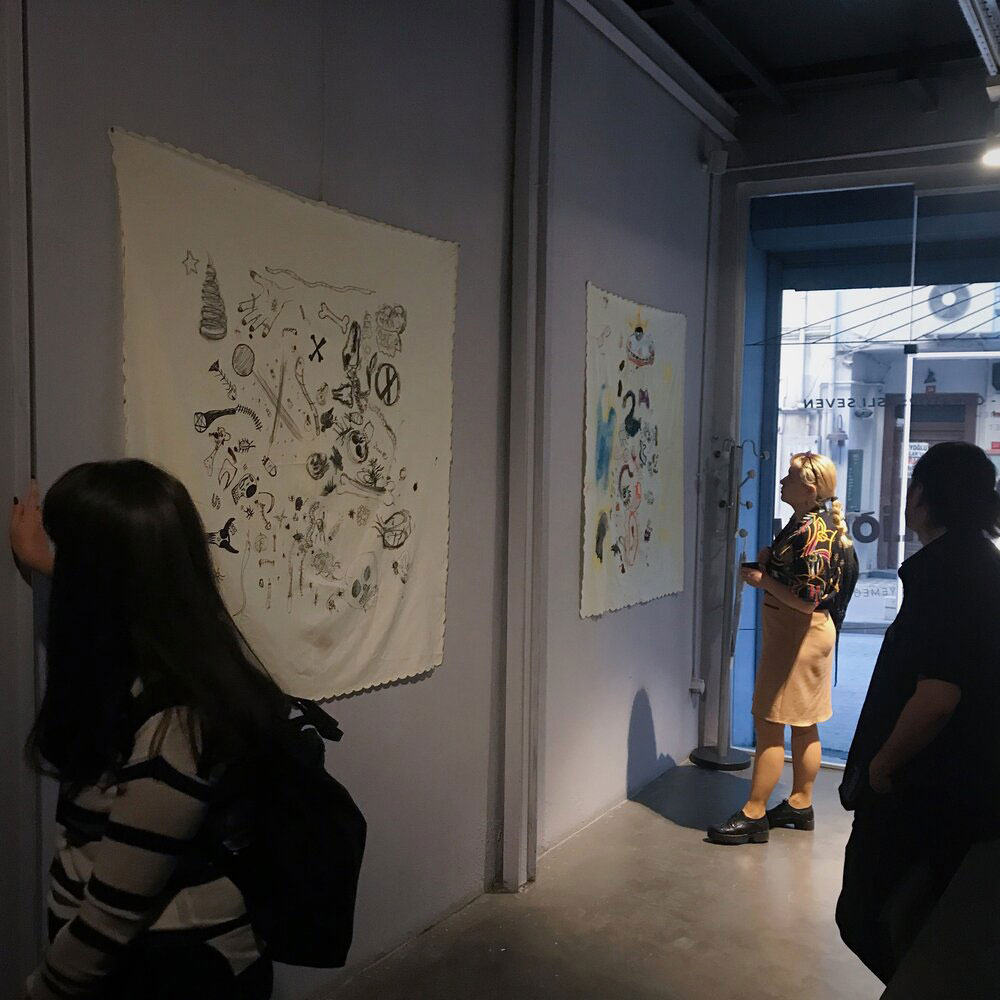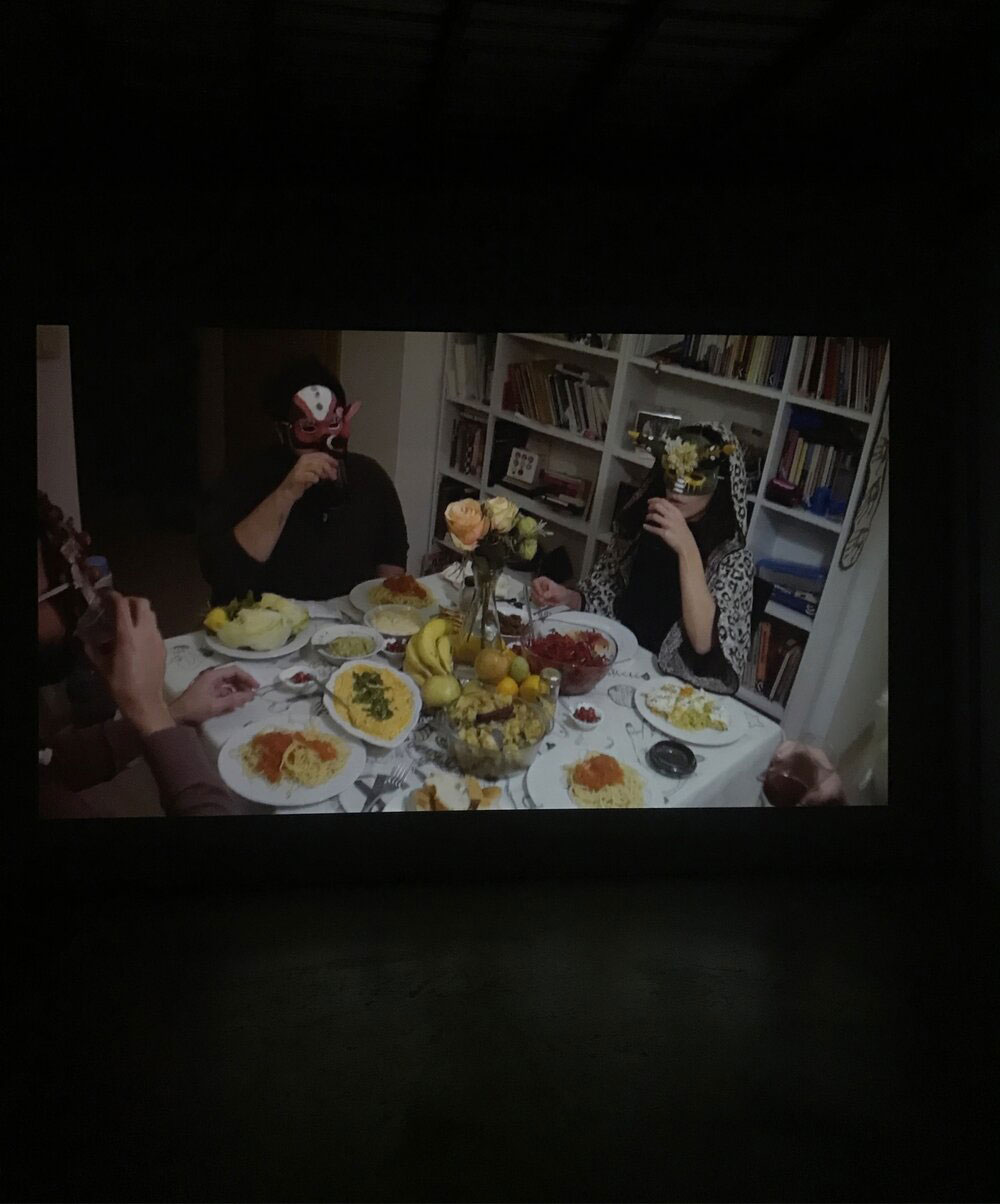 COMMON SECRET

CURATOR:ASLI SEVEN
Art Talks: Kadir Kayserilioğlu & Aslı Seven
18.09.2019
Bilsart hosts the group exhibition "Common Secret", curated by Aslı Seven, between September 3 – 28.
"Common Secret" brings together two video works that investigate the social use of pretense and lie by focusing on masks, makeup and language as props of a serious game, while presenting us with settings of food preparation and consumption as collective and personal rituals.
According to anthropologist Michael Taussig, the knowledge of what not to know, what not to say and what not to see is the most powerful form of social knowledge.
The social tactics and behaviors through which we communicate and create a community constitute the surfaces, faces and interfaces where structures of power are reproduced and challenged – language, ceremony, art, all supported by the depths of public secrecy that they conceal and reveal in a measured balance in movement. Truth and lie are not opposites, neither are they mutually exclusive they rather complement and mutually generate eachother.
The negotiation of what can be spoken and visible at any moment in social history and the conditions for transgressing these boundaries are set out a playground. Fiction, falsehood and play, as well as techniques of self-presentation and risk calculations appear as plastic materials in these two videos: redefining the parameters of truth, speaking the unspeakable and opening up a space for the performance of subjectivity within this field are conditioned at times on the suspension of disbelief, at others on invisibility tactics.
Both works rely on methods of conversation and interview, and as such, they occupy a transitional space between documentary, fiction and performance. While food and table rituals define, the ceremonial framework of gathering as a surface waiting to be scratched, the backdrop of official social and political statements catches the eye like a glitch, for a brief moment.
KADİR KAYSERİLİOĞLU
A DINNER WITH FRIENDS
September 18-28, 2019
Kadir Kayserilioğlu's "A Dinner with Friends" appears as the video documentation of a participatory performance. We follow gestures and conversations of four people around a table ritual. They do not have prior acquaintance with each other and are acting according to a simple protocol that the artist has previously determined. Up to a ceratin point things progress according to expectations, but early on, unexpected oddities infiltrate into the images, and we are gradually immersed in a thrilling course of events that makes us doubt the nature of the gathering we are watching, we are not quite sure of what we are witnessing.
The script, divided into pre-mask and post-mask parts, creates a tear in the social plane that determines what can be said, experienced and seen as it gradually becomes a pagan ritual, a Dionysian feast, and reaches an uncanny excess. We witness a ritual that transforms the transitions between reality and play, document and fiction, surfaces of representation, staging and life itself into a game field.
In the video's script, if the kitchen and the dining table are playgrounds and stages, contrary to expectations, the balcony and the balcony speech are the backstage: the intimate sharing –sharing of a dream– here deals with the current state of the public space by touching the issues of self-censorship through an exposure of desire and taboo. Similarly, the deep, personal conversation that revolves around mortality and immortality as the tablecloth forms the basis for a collective painting production, , refers to political debates of continuity and obedience of the period, while at the same time it opens up the possibility of a discourse other than the official public discourse. Through food and conversation as oral impulses, the feast and transitions of self that transform the order of language aim to produce a new space outside the existing political and symbolic order.
About KADİR KAYSERİLİOĞLU:
Born in 1987 in Istanbul, Kadir Kayserilioğlu holds a BA from Yeditepe University, Department of Graphic Design and an MA from Department of Fine Arts which he completed with a thesis titled "Critiques of Rationality In Early Modern Era and Avantgarde Art". He is currently pursuing a Proficiency in Arts degree at Marmara University, alongside his participation at group shows in and outside of Turkey, his research and projects on Contemporary Art.
Kayserilioğlu's practice is grounded in methods of participation and gathering. Having worked across media, in recent years his focus has been on video and participatory art. His works rely on processes of play and improvisation, the outcomes of which he juxtaposes with contemporary political dynamics. His areas of investigation include the nature of social reality, gender issues, identity politics, and populist strategies. In his approach to these topics, he sometimes uses mythology as a bridge between distant history and the present. He often engages in strategies of the absurd in a purposeful way. In recent years, Kayserilioglu's work has been shown in Bozlu Art Project, sub (Çanakkale), Marmara Pera Hotel, santralistanbul and Bina. In 2018 he curated the group show Poltergeist in Space Debris, Istanbul. In 2019, his works were included in Mamut Art Project and Akbank Contemporary Artists Prize Exhibition.