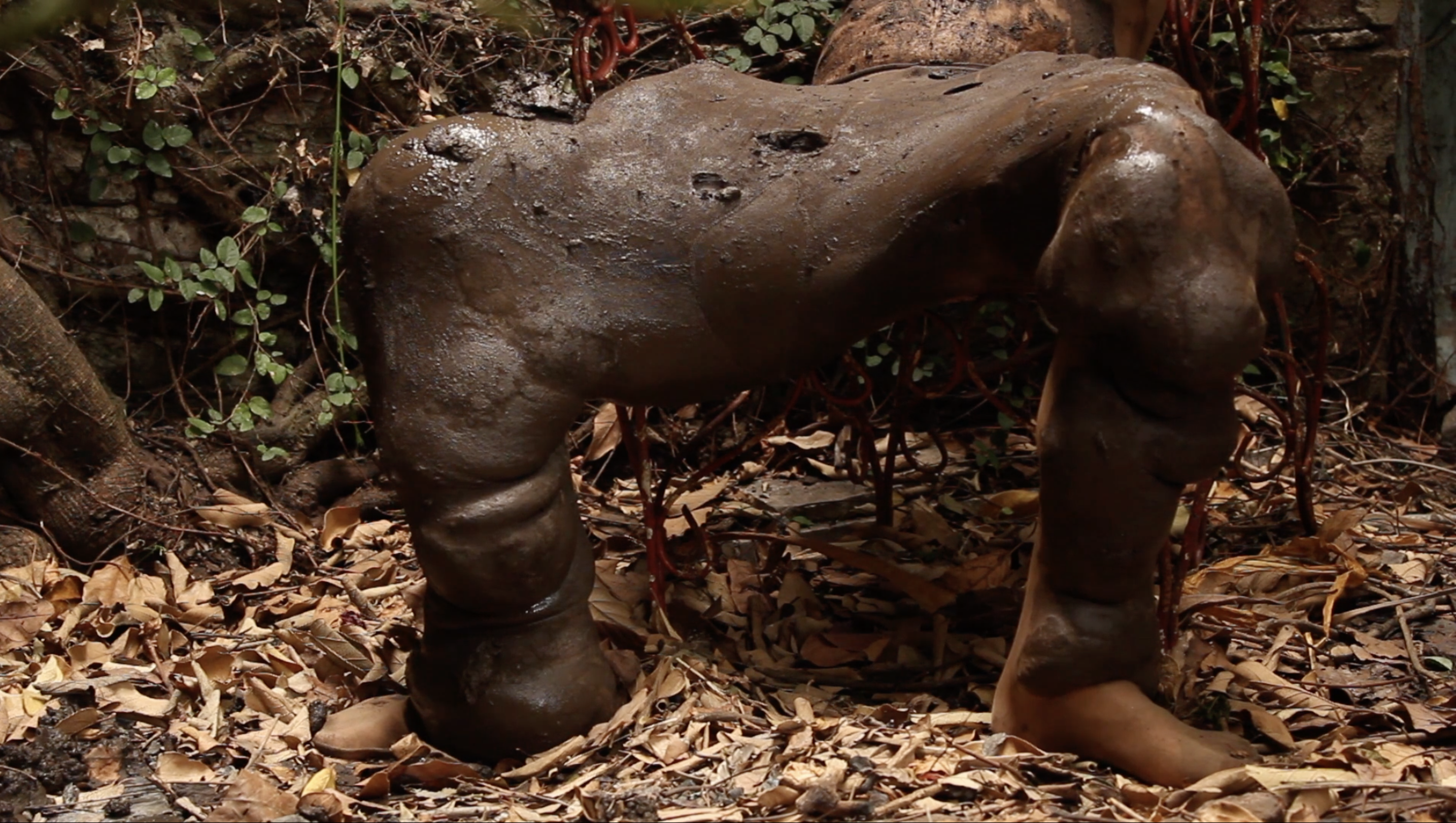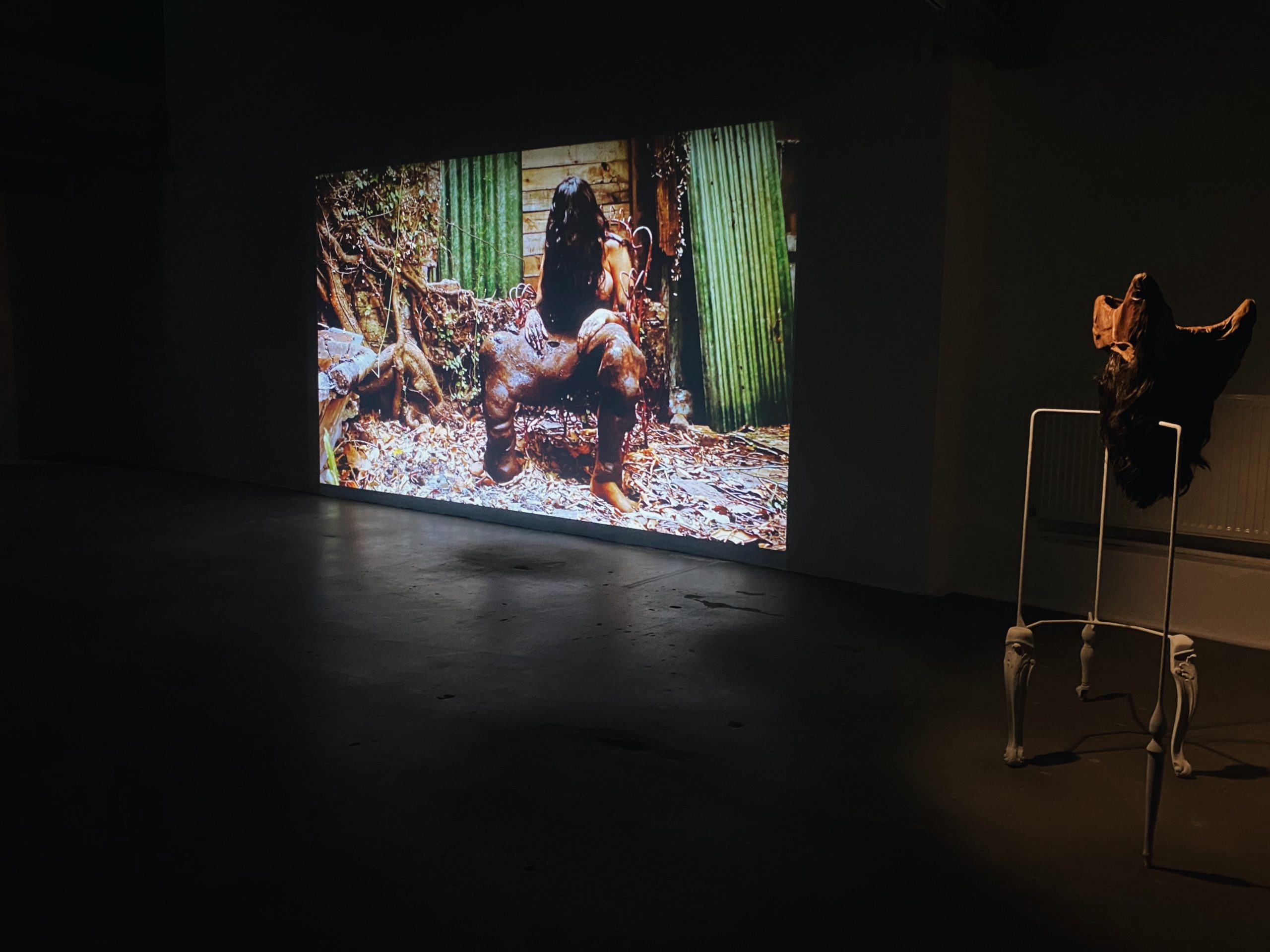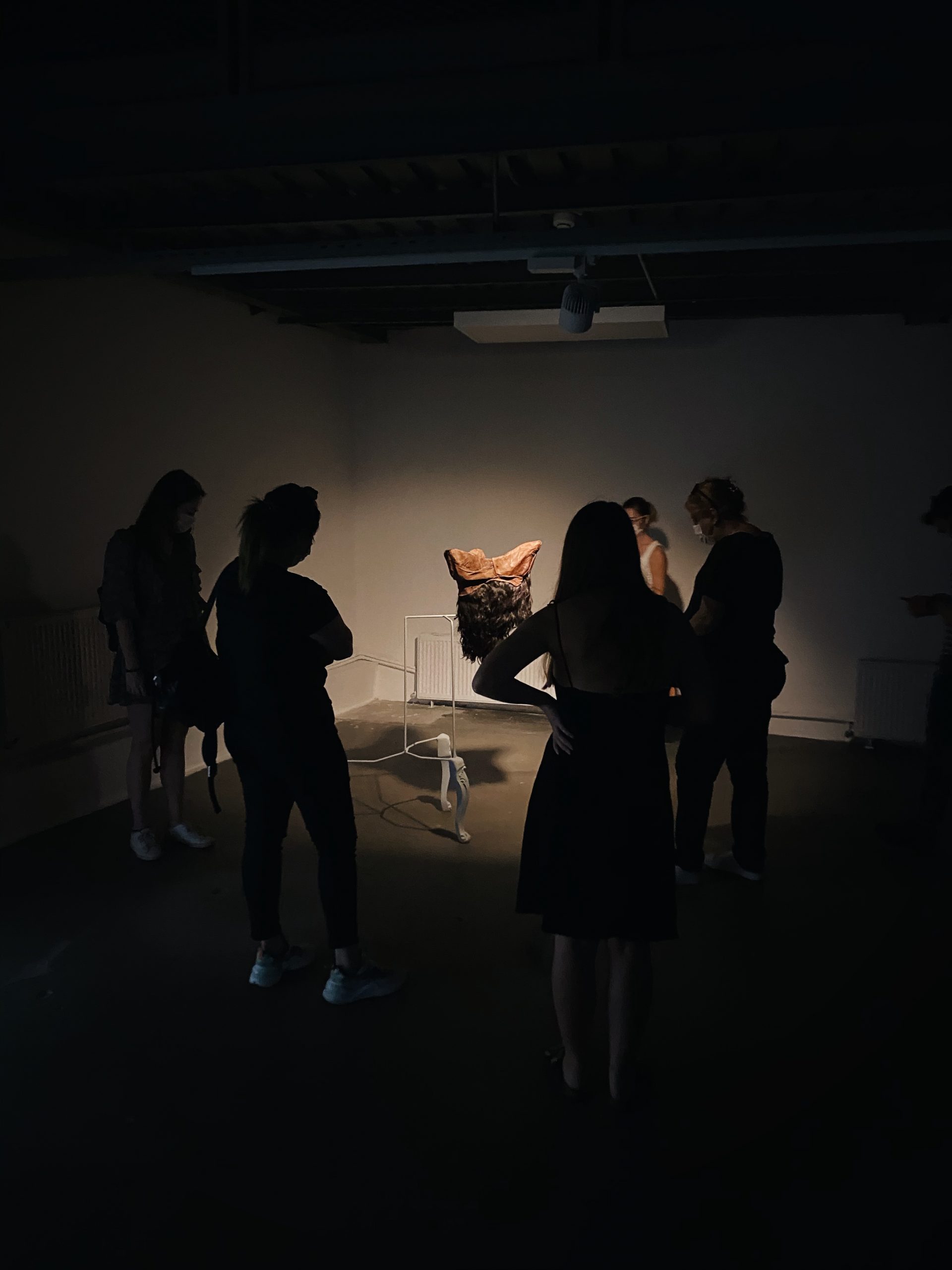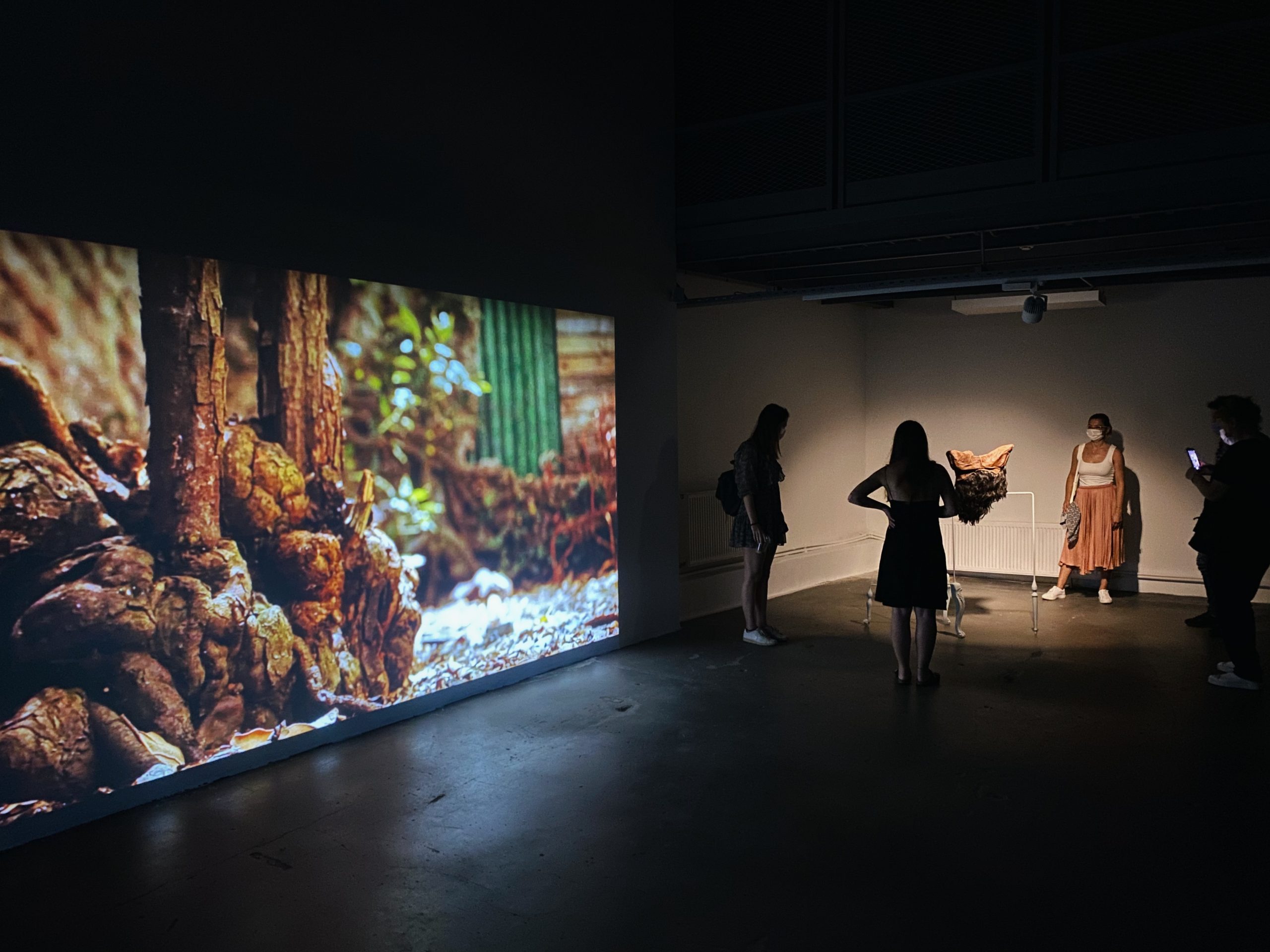 MELAINE CHOLE
Online Art Talk: Francesco Albano & Sinan Eren Erk
23.09.2020
Melaine Chole is a video piece conceived by the sculptor Francesco Albano, together with Maria Laura Caccamo and Nicolas Grandi in 2016.
On Wednesday, September 23rd, Francesco Albano & Sinan Eren Erk's online art talk at 4pm.
Melaine Chole is a video piece conceived by the sculptor Francesco Albano, together with Maria Laura Caccamo and Nicolas Grandi in 2016.
Albano is known for his representations of disrupted bodies in his work. His sculptures and installations render a peculiar plastic language thanks to his use of polyester, polyurethane and paraffin. His work embodies these synthetic materials as signs of decadence, excess and negligence. Embracing numerous references and points of transformation within the history of sculpture, Albano seeked the potential to decode the traditions of domination imposed on bodies. Through his sculptures, he tries to reveal the invisible violence towards live bodies and the permanent effects of hidden tyranny on human feelings and thoughts. Setting off from various bodies that have undergone transmogrifications, Albano attempts to get closer to the materiality beyond what is seen.
In Melaine Chole, with the help of his wife and actress Laura Caccamo and with the filmmaker Nicolas Grandi, Albano attempted to reverse the process in his sculptures. His works mostly represent bodies that are deprived from their inner mass that seemed to pass the threshold where it was no more possible to recover. Yet in Melaine Chole, the then pregnant body of Laura is being re/filled with mud, a non-synthetic material, to be rather recovered from `melancholy` – meaning `black bile` originally in Greek.
The re/filling of the black mud provides metaphoric reversal in the video, as to how melancholy used to be conceived by Hippocrates and Galen, the two founding scholars of medicine of Greek and Roman traditions. According to them, the dysfunctional behaviour of the black bile within the body could produce Melancholy and Elephantiasis, the deformation of the body. In Melaine Chole, the protagonist is surrounding and transforming her body with soil as a sign for both desire and lack of desire, the constant human and Sisyphean act of living this life. The act also allegorically points to the myth of Daphne, where the nymph is being transformed to a laurel tree and the video also attempts to enact the iconographic qualities of Albrecht Durer`s seminal 1514 engraving, Melancholia I.
Melaine Chole has only be screened in 2016 at Robert Kananaj Gallery in Toronto as a part of Albano`s show, After Grunewald.
The screening of Melaine Chole in Bilsart will be accompanied with a 2019 sculpture by Albano, Exercise for Acephalia III.
ABOUT FRANCESCO ALBANO
Francesco Albano (1976) graduated from the Fine Arts Academy of Carrara in Italy in 2000 and received the National Art Award MUIR in sculpture in 2005. His works have been displayed at solo exhibitions in Milan, Toronto, Pietrasanta and Istanbul, and group exhibitions in Europe and North and South America. Having continued his works in Istanbul between 2010 and 2015, Francesco Albano has been living in Palermo since 2017 and continues to work as a professor at Accademia di Belle Arti Palermo. Oktem Aykut will show Albano`s most recent work at Artissima`s upcming edition in November 2020, in Torino.
ABOUT MARIA LAURA CACCAMO
Maria Laura Caccamo (1978), actress, theater player and yoga teacher from Argentina. She lives and works in Palermo, Italy.
After completing her education at Bahia Blanca Theater School in 2001, she moved to Buenos Aires where she continued her education with respected masters such as Guillermo Angelelli, Miguel Guerberof and Ricardo Bartis. In 2009, she starred in La Mosca en la Ceniza / A Fly in the Ashes, directed by Gabriela David and she won the Condor de Plata / Silver Condor Award in 2011 for this performance. She received the Best Actress award at the 3rd Latinoamerican Film Festival. Caccamo appeared in films including Relatos Salvajes / Wild Tales (2014) directed by Damian Szifron and El Deseo del Domingo (2016) by Fernando Scarfo. Her theatrical activities include playing Frida in El Castillo de Kafka (2004) directed by Miguel Guerberof; and working as assistant director in Samuel Beckett's "An Act Without Words", Harold Pinter's "The Lover" and William Shakespeare's "As You Like It". Caccamo collaborated with Francesco Albano in the project La Poetica de la Fragilidad (2017) with Nicolas Grandi and Lata Mani.
ABOUT NICOLAS GRANDI
Nicolás Grandi is a Buenos Aires based filmmaker, transdisciplinary artist and educator. He has been teaching film theory and practice in universities, schools and community workshops in Argentina and India and has cofounded several collectives working at the intersection of film, poetry, music and sculpture. He is currently working on a transmedia documentary on native stingless bees of Argentina and on a video correspondence for the Bienal de la Imagen Movimiento (BIM) 2020 that will take place during October. He also runs transdisciplinary art labs, and teaches at UNTREF, Buenos Aires. His films, which include, The poetics of fragility (2016), De Sidere 7 (2014), Nocturne I and II (2013), La Pasión Según Ander (2005), among others, have been screened widely at film festivals and art events around the world.